Mine clearance in Agdam district. AA
***
- Dennis, you are the head of the organization campaigning to eradicate landmines in the South Caucasus, including landmines planted in the Armenian-occupied (now liberated by Azerbaijan) territories of Azerbaijan. At present, Azerbaijan is having difficulty clearing these mines in its liberated lands. The Armenian side refuses to provide a mine map. How do you think this issue should be resolved?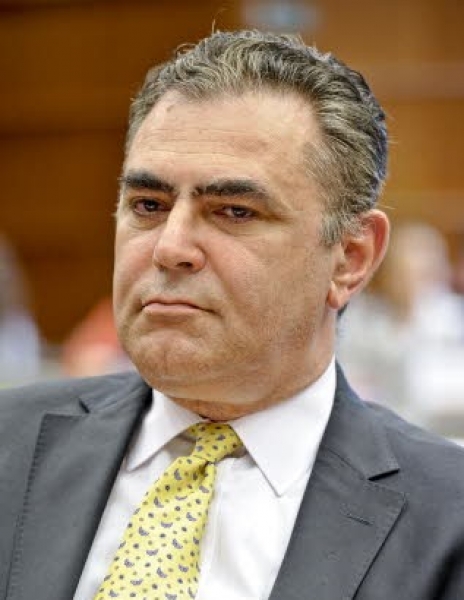 -Since 2019 LINKS Europe has been co-ordinating a campaign for a landmine free South Caucasus. We do not distinguish between this or that country or this or that territory. Landmines are a reprehensible weapon. They should not be planted, and wherever they are, an effort must be made to clear them.
From the beginning we have urged all the countries in the South Caucasus and all demining agencies engaged in clearing landmines and unexploded ordnance to co-operate together towards this objective. This includes providing each other with maps of minefields where these maps exist, but also other forms of co-operation. We were saying this before 10 November 2020, and we have said it since.
- How landmine contaminated are those areas? What can you - or organizations which are part of your campaign - can say in this regard? Do you have any figures or maps for this?
-We do not have precise information on how many landmines there are and where they are. But the whole world is aware that the territories that have reverted back to Azerbaijan as part of the 10 November trilateral statement are heavily mined. We support the efforts to clear these landmines and make the territories safe so that displaced people can return back to them in safety and in dignity
- In Kalbajar, you are probably aware of a mine explosion on June 4 that killed two journalists and a local official. Mines have become a source of danger not only for ordinary citizens but also for journalists. Yet, despite all this, Armenia refuses to provide mine maps. This is a violation of UN conventions. Why don't international organizations and the UN put pressure on Armenia in this regard?
-The death of two Azerbaijani journalists as a result of a landmine explosion is a very sad event. Their death highlights the gravity of the problem and the need for all the countries in the South Caucasus to have a clear policy of clearing landmines from the entire region. Our aim is for not one single landmine to be left in the region and we will continue campaigning in this regard.
The issue of maps of minefields is an important one, and there should be co-operation to ensure that all sides commit to share information on the location of landmines when they have it. But there are other issues too. Out of the 192 member countries of the United Nations, Armenia and Azerbaijan are among only 33 countries that have not signed or acceded to the Ottawa Convention/Treaty – the informal name for the 'Convention on the Prohibition of the Use, Stockpiling, Production and Transfer of Anti-Personnel Mines and on their Destruction' – which came into effect in 1999. The international community wants to see them doing so, as a commitment not to use landmines, to destroy any landmines held in stock and to co-operate for the clearance of landmines where they exist.
- After a landmine exploded in Kalbajar, the commander of the Armenian armed forces, Koryun Gumashyan, admitted that buried mines brought by 17 trucks near Lachin and Kalbajar. He said that if the Armenian servicemen detained by Azerbaijan were released, he was ready to give a mine map. Isn't this a crime?
- I condemn in the strongest possible way the use of landmines by anyone, anywhere. Landmines should not be used. This is not a matter of trading this for that, it is a matter of principle.
 - Recently, the Azerbaijani military detained Armenian saboteurs who crossed the border into Azerbaijan to plant landmines. Now one of the versions is that the mine that exploded in Kalbajar is a newly planted landmine. Although the authorities deny this. In that case, shouldn't this be considered terrorism? And in this case, does Azerbaijan not have the right to conduct anti-terrorist operations on its territory?
-Your question raises separate issues. In 2021 in the South Caucasus, or indeed anywhere in the world no one should be laying landmines anywhere.
 - What should Azerbaijan do to ensure the security of its lands for citizens? Should the appeal to CSTO that Armenia, a member of it, to establish mines in Azerbaijan territories by violating borders with saboteurs? Or should it appeal to the UN, the countries of the anti-terrorist coalition, as well as the countries of the OSCE Minsk Group and the co-chairs, as well as Russia, one of the parties to the November 10 statement and entering Azerbaijan with a peacekeeping mission? What steps should Azerbaijan take if they are silent?
I repeat that there are different issues you raise here. None should be laying landmines anywhere, not on their side of the border, and certainly not on the territory of another country. The issue of delineation and demarcation of the Armenia-Azerbaijani border needs to be resolved through negotiations. Until this happens the sides need to avoid incidents. They can do this through bilateral negotiations; or they can ask for others to help facilitate the process. Many countries and international organisations have offered to help in this regard. Their call should be heeded and assistance sought. Otherwise, it will be very likely that incidents will happen, even on a daily basis, and some may escalate into a full war again. This is at the moment unlikely, but cannot be completely excluded either.
The trilateral declaration signed by Armenia, Azerbaijan and Russia on 10 November 2020, established a cease fire, and established certain provisions for the post-conflict situation but it is not a peace agreement. Armenia and Azerbaijan need to move towards a peace agreement. In the meantime they should abide fully to international law, and particularly international humanitarian law. This will be a good basis on which to build the future.